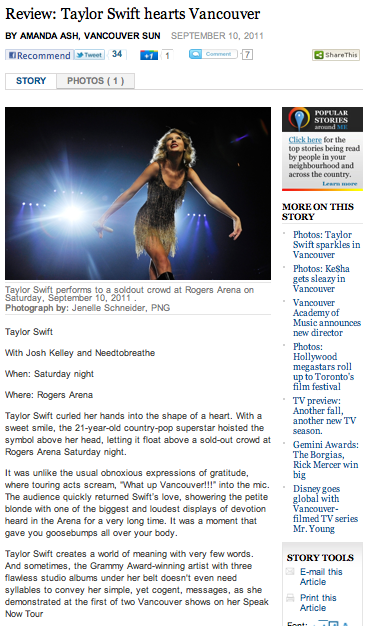 Published in the Vancouver Sun September 10, 2011.
BY AMANDA ASH, VANCOUVER SUN
Taylor Swift curled her hands into the shape of a heart. With a sweet smile, the 21-year-old country-pop superstar hoisted the symbol above her head, letting it float above a sold-out crowd at Rogers Arena Saturday night.
It was unlike the usual obnoxious expressions of gratitude, where touring acts scream, "What up Vancouver!!!" into the mic. The audience quickly returned Swift's love, showering the petite blonde with one of the biggest and loudest displays of devotion heard in the Arena for a very long time. It was a moment that gave you goosebumps all over your body.
Taylor Swift creates a world of meaning with very few words. And sometimes, the Grammy Award-winning artist with three flawless studio albums under her belt doesn't even need syllables to convey her simple, yet cogent, messages, as she demonstrated at the first of two Vancouver shows on her Speak Now Tour
That's what makes T-Swift one of country's—and the world's—most successful artists. She speaks to a single moment, a single time and a single feeling. She isn't wordy. She's not complicated. Rather, her youthful perspective allows her to tell elemental stories that cut to the chase. Swift's lyrics are stripped down and accessible rather than abstract. Mine, Mean, Sparks Fly, Enchanted, Speak Now—all songs focus on primary emotions or experiences. And such simplicity, even when it's tinged with a bit of childish fantasy, rings louder than any gabby rhetoric could.